Richmond Hill Golf Club, 8755 Bathurst Street, Richmond Hill, ON


August 30, 2023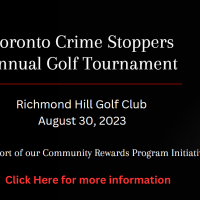 Join us on August 30 2023 for Toronto Crime Stoppers Golf Tournament.
Our popular tournament is a great way to show your support for Crime Stoppers' contribution to keeping the community a great, safe place to live and work. Crime Stoppers is a non for profit organization and relies on fundraisers such as this tournament so that we can operate our programs and community events.
Take advantage of this opportunity to network with community and business leaders while enjoying a day at Richmond Golf Club.
Breakfast, Lunch and great prizes will be in the clubhouse.
Sponsorship packages are available.
For more info contact us at 416 808 7261 or Sean.Sportun@gmail.com
Or visit https://torontocrimestoppersgolftournament.my.canva.site/
;