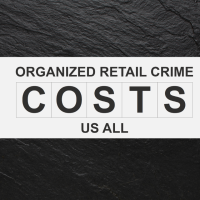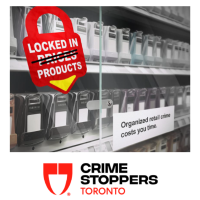 Organized retail crime is a $5 billion industry in Canada annually, leading to increased prices at checkout and violence against employees.
To address the growing issue that affects more 87% of independent retailers, Toronto Crime Stoppers launched an organized retail crime awareness campaign on October 3 at police headquarters.
The campaign includes radio and social media advertising that are aimed at educating the community about the costs associated with this crime.
In addition, the advertising drives consumers to ItCostsUsAll.com to learn more about the costs of organized retail theft.
"These crimes are costing all of us because they drive up the prices of products that we purchase on a regular basis," said Chief Myron Demkiw. "Organized retail crime might not be something that the average person thinks about very often. However, it is a growing problem across Canada and it impacts all of us in different ways."
The Chief said the Service is proud to support Toronto Crime Stoppers and its partners in raising awareness about a very important issue.
"Together, we can enhance community safety by encouraging you to report retail crime or any type of criminal activity anonymously through the Crime Stoppers platform," he said. "Every year, Toronto Crime Stoppers processes thousands of anonymous tips that help our investigators make arrests, resolve and solve incidents of crime. We are committed to collaborating with partners across several sectors, including the Toronto Police Services Board, the Retail Council of Canada and Toronto Crime Stoppers to improve safety."
Toronto Police Services Board Chair Ann Morgan said organized retail crime poses significant safety risks to store employees, consumers and it leads to the sale of stolen and counterfeit goods, some of which can be dangerous, expired, repackaged, defective or incorrectly stored.
"The effects are both varied and numerous and they are devastating to the community," she said. "We are proud that Crime Stoppers is dynamic, progressive and is constantly changing to deal with the issues here in Toronto as they change the landscape of criminal activity."
Retail Council of Canada Executive Adviser Rui Rodrigues said the campaign timing is perfect.
"As we head into the holiday season, there is always an increase in crime that we see," he said. "The sheer nature of demand, gifting and things like that. So doing it at this time is appropriate and I commend Crime Stoppers. From a retail industry perspective, we want to continue to advocate on behalf of retail with government, with police and with justice. The police has done a great job coming to the table. We need to see more criminal code amendments that really define the difference between shoplifting and things that are organized and should carry more severe consequences."
Two out of every five organized retail thefts involves violence.
Unlike spontaneous shoplifting by individuals with little or no pre-meditation, Toronto Crime Stoppers Chair Sean Sportun said organized retail crime entails careful planning, deliberate targeting of retailers and high-level co-ordination among offenders to steal merchandise.
"Theft retail crime networks use their unlawful gains to fund other criminal activities like human and drug trafficking and gun and gang activity," he pointed out. "These offenders are also not afraid to introduce violence during the commission of their crimes against innocent employees or customers who stand in their way."
Sportun said the latest campaign was strategically developed for citizens to take notice of this costly social issue.
"It demonstrates how consumers are ultimately paying for the crimes of others," he said. "Presented as a crime tax that criminals are forcing Canadians to pay or the added time it takes to purchase selected merchandise, the campaign arms consumers with alarming facts of the realistic impact organized retail crime is having on the community."
Phase One of the Organized Retail Crime Campaign was launched in 2013 at a time when shoplifting evolved into a more lucrative criminal enterprise.
The second phase was launched last January with consumers being asked to think twice before buying questionable products online.
They were also encouraged to report thefts anonymously in order to curb organized retail theft that has escalated in frequency and violence.
"With the busy holiday season fast approaching, this latest campaign serves as a reminder of the impacts retail theft has on consumers," said Detective Marc Madramootoo, the Toronto Crime Stoppers Co-ordinator. "Besides being a profitable criminal enterprise, there is also the potential for increased violence associated with this type of criminal activity."
For more information go to www.itcostsusall.com
Anyone with information can call Crime Stoppers at 1-800-222-8477 (TIPS) or submit a tip online at 222tips.com.