Gender: Male
Height: 192 cm
Weight: 87 kg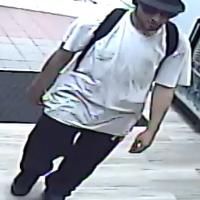 The Toronto Police Service- Hold Up Squad is seeking the public's assistance in identifying a person who robbed a pharmacy in the city of Toronto. It is alleged that the suspect entered the Main Drug Mart located at 521 Victoria Park Avenue on September 4, 2018. The suspect entered the store and vaulted over the counter and pistol whipped the victim across the face. He obtained 20 bottles of Oxycodone and made good his escape.

The suspect is described as male, white, 5"10, 160-180lbs with facial hair.
Toronto Police Service in conjunction with Crime Stoppers are seeking the assistance of the community in helping to locate this person.

We encourage all citizens to stand up for what is right, and be a witness wherever they see a Crime. Ideally any information that you have should be called in directly to the investigating Police Officer. However, Crime Stoppers understands the need for anonymity and thus have provided this service to facilitate the flow of anonymous information to investigating Police Officers.

Crime Stoppers is a community operated. It is a; local provincial, national and international service to provide ANONYMOUS information to Law Enforcement. In Canada, the anonymity of a Crime Stoppers tip is protected by case law of the Supreme Court of Canada.

There are three ways to submit a tip to Toronto Crime Stoppers:

Phone Local: 416-222-TIPS (8477) / Toll Free: 1-800-222-TIPS (8477)

Submit a Tip through this Mobile App



Toronto Crime Stoppers is a registered Canadian charity that partners with the community, media outlets and local Police Services to provide community members a way to anonymously supply police with information about a crime or potential crime. TIPSTERS always remain anonymous and are never required to testify in court. CASH REWARDS of up to $2000 may be paid to tipsters.