Gender: Male
Height: 6 ft 0 inch / 183 cm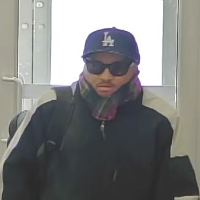 The Toronto Police Hold Up Squad are releasing security video of a bank robbery suspect and are asking for the public's assistance in identifying him.

This male suspect is responsible for a series of five financial robberies, which have occurred in the GTA areas of Toronto, Durham Region and London.

The released video depicts the first bank robbery and it is alleged that:
-on Saturday April 7, 2018 at 10:10am, a man entered a bank near Yonge Street and Wellesley Street West wearing a 'LA' baseball cap, dark sunglasses and a scarf around the lower portion of his face in an attempt to conceal his identity
-he approached a Customer Service Representative and placed a blue backpack on the counter
-the man put his hand inside the backpack and made a verbal demand for money, indicating he had a gun in the bag
-he was given a quantity of money and exited the branch


It is further reported that five other related bank robberies took place;
-on Thursday April 12, 2018 at 10:40am on King Avenue West in Newcastle (Durham Region)

-on Wednesday May 16, 2018 at 10:30am on Bloor Street West and Spadina Avenue, on this date he had a black beard and moustache

-on Friday May 18, 2018 at 9:30am on Oxford Street East and Richmond Street, London

-on Saturday May 26, 2018 at 3:15pm on Kingston Road and Victoria Park Avenue



The man has been described as male black light complexion, 25 – 35 years, 6' with facial hair. During the robberies he wears dark sun glasses and his hair is covered with a baseball hat.

Anyone with information is asked to contact police at 416-808-7400, Crime Stoppers anonymously at 416-222-TIPS (8477), online at www.222tips.com, online on our Facebook Leave a Tip page. Download the free Crime Stoppers Mobile App on iTunes, Google Play or Blackberry App World.
Toronto Police Service in conjunction with Crime Stoppers are seeking the assistance of the community in helping to locate this person.

We encourage all citizens to stand up for what is right, and be a witness wherever they see a Crime. Ideally any information that you have should be called in directly to the investigating Police Officer. However, Crime Stoppers understands the need for anonymity and thus have provided this service to facilitate the flow of anonymous information to investigating Police Officers.

Crime Stoppers is a community operated. It is a; local provincial, national and international service to provide ANONYMOUS information to Law Enforcement. In Canada, the anonymity of a Crime Stoppers tip is protected by case law of the Supreme Court of Canada.

There are three ways to submit a tip to Toronto Crime Stoppers:

Phone Local: 416-222-TIPS (8477) / Toll Free: 1-800-222-TIPS (8477)

Submit a Tip through this Mobile App




Toronto Crime Stoppers is a registered Canadian charity that partners with the community, media outlets and local Police Services to provide community members a way to anonymously supply police with information about a crime or potential crime. TIPSTERS always remain anonymous and are never required to testify in court. CASH REWARDS of up to $2000 may be paid to tipsters.