Toronto Crime Stoppers Dinner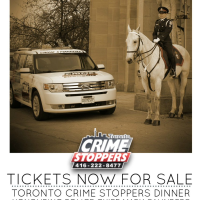 On behalf of Toronto Crime Stoppers and Chief of Police Mark Saunders, thank you to all our community partners for your supporting the 23rd annual Crime Stoppers Dinner, and continuing to work toward making the 24th ever better!
Your generosity enables Toronto Crime Stoppers to succeed in it's mission of solving and preventing crimes resulting in a safer community for all of us.
ONE TIP AT A TIME.